Wielkopowierzchniowy spektrometr alfa
Posiadany spektrometr alfa służy do badań aktywności powierzchniowej alfa próbek o rozmiarach do 45×40 cm. Urządzenie charakteryzuje się rekordowo niskim biegiem własnym, uzyskiwanym dzięki zastosowaniu zaawansowanej analizy kształtu rejestrowanych impulsów. Spektrometr został zbudowany na bazie prototypu przez firmę XIA (USA) – ZDFK zakupił pierwszy wyprodukowany egzemplarz. Oprócz IF UJ aktualnie na świecie pracują jeszcze 4 takie urządzenia (jedno w Japonii i trzy egzemplarze w USA). W przypadku detektora pracującego w IF UJ zastosowaliśmy dodatkowe oczyszczanie gazowego argonu, używanego jako gazu licznikowego. Metody oczyszczania Ar z promieniotwórczych izotopów radonu i kryptonu (główne źródła tła) zostały opracowane i zaimplementowane przez pracowników ZDFK i przyczyniają się do znacznego obniżenia tła spektrometru, a co za tym idzie podniesienia jego czułości. Wykorzystywany jest on do prowadzenia zaawansowanych badań aktywności powierzchniowych elementów stosowanych w detektorach podwójnego bezneutrinowego rozpadu beta oraz detektorach ciemnej materii.
Pracownia chemiczna
W pełni wyposażona pracownia chemiczna służy przygotowaniu próbek pomiarowych. W laboratorium przeprowadza się procesy chemiczne w celu badania technik usuwania izotopów radioaktywnych z powierzchni materiałów. Na wyposażeniu pracowni znajdują się m. in.:
- płuczki ultradźwiękowe,
- aparatura do elektropolerowania,
- wyciągi chemiczne,
- dejonizator wody,
- etc.
Kontakt: dr Grzegorz Zuzel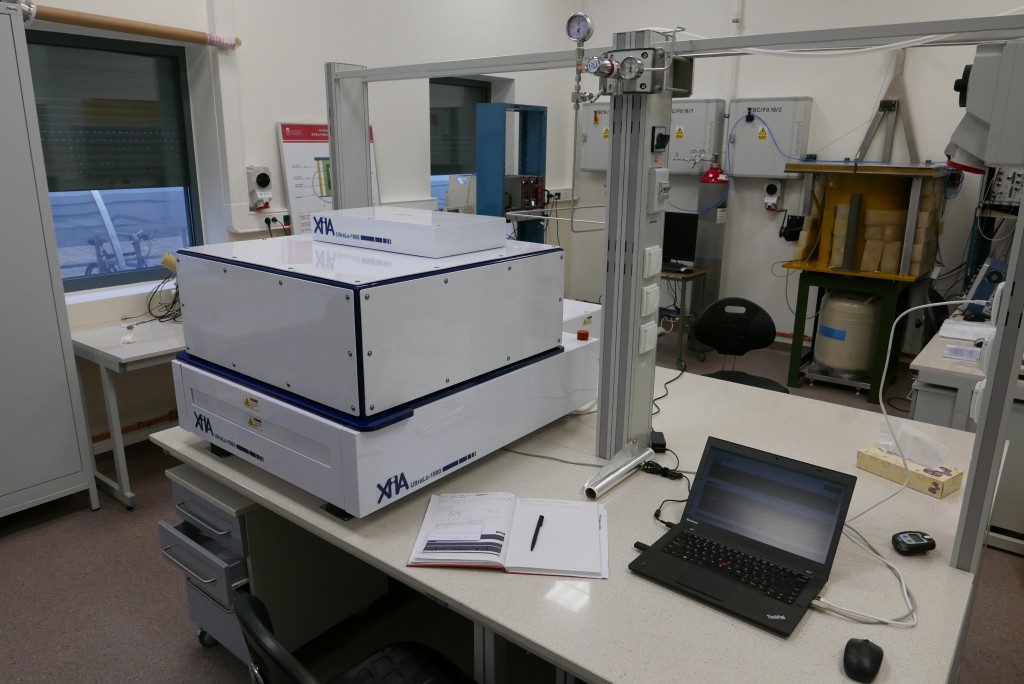 ---
The main task of the laboratory for alpha-spectrometry is the assessment of raw material samples (e.g. in plastics, metals) for their content of alpha-particle emitters.
Several alpha-particle detectors (including the unique large-surface argon detector and high-resolution silicon spectrometers) provide means for research of the best materials for low-background experiments such as GERDA, DarkSide and Borexino.
Sample preparation is possible in a dedicated chemical laboratory. The laboratory is used for the assessment of various radioactive isotopes removal techniques, such as:
- ultrasonic cleaning baths,
- chemical treatment (etching) of surfaces,
- electropolishing
- etc.
Contact: dr Grzegorz Zuzel